Blog
Welcome to Lost Oak Winery's Blog.
The panhandle of Texas is home to one of the largest American Viticultural Areas (AVA) in Texas. Designated the Texas High Plains, it is second only to the Texas Hill Country.
Recently, I was invited to tour some of the vineyards in the High Plains.
Now, I am a Texas girl and I have traveled to many corners of the state, but the panhandle is one spot I had never been to. The first thing that struck me was the never-ending sky. Montana is known as "big sky country" but I have been to Montana, and although it is incredibly beautiful, the sky is nothing compared to what the High Plains had to offer.
I thought that the endless flatness would get boring, but instead, I found the expansiveness to be fascinating. I saw wildlife that included prairie dogs, burring owls, red shouldered hawks, horned lizards, and more butterflies than you can count.
I was event there during a haboob. I watched the horizon for almost an hour as the dust storm grew in insanity before engulfing the restaurant we were dining at.
Other nights the horizon was awash in electrically charged thunderheads that just never quite made it to where I was. I can see why people would choose to live in what many would consider to be vast nothingness.
Beautiful vistas and wildlife aside, I was there to look at some vineyards.
But what exactly were we looking for? How healthy are the vines, is there hail damage, how full is the canopy, do the clusters look like they are developing evenly, how much fruit is there, what is the expected yield?
With the help of the growers, all our questions are answered and then we determine how much of each varietal we want from our different growers.
Our first stop was the Bingham Family Vineyard in Meadow then off to Krick Hill Vineyards in Levelland. The next day we went to Oswald Vineyards in Brownfield and Diamante Doble Vineyard in Tokio.
Everywhere we went we were treated to the best Texas hospitality from hard working vineyard owners.
I was overwhelmed by the amount I learned and how passionate the growers were about their vines.
Although, they were growing different types of grapes and each grower did things a little different from the others, one thing they definitely had in common was the spark in their eyes and the smile on their face when they got to talk to us about their pride and joy, their grapes.
We can't wait to make outstanding wine from their incredible fruit.
Cheers!
- Written by Angela Chapman, WSET III

Edited by fellow wino Mariam Copeland

Lost Oak Winery Wins at the 2019 Lone Star International Wine Competition
Burleson, Texas, June 11, 2019
Each year the Texas Wine and Grape Growers Association hosts the Lone Star International Wine Competition (LSIWC). This year twenty-five judges, primarily from the retail and distribution tier of the wine industry, participated in the blind judging on June 3-4, 2019 in historic Grapevine, Texas, centrally located between Dallas and Fort Worth. The LSIWC is the oldest wine competition in the State of Texas.
Lost Oak Winery is proud to announce the following wines were awarded medals:
Cabernet Sauvignon 2017 Silver
Tempranillo 2017 Silver
Mourvedre Rose 2018 Silver
Orange Muscat 2018 Bronze
Cabernet Franc 2017 Bronze
Sauvignon Blanc 2018 Bronze
Come to the Lost Oak Tasting Room for a taste. Cheers to Texas Wine!
A Rosé by Any Other Name…
…would still be a pink wine.
But to simply calling it a pink wine does not do it justice. Rosé wines can be bone dry, insatiably sweet, sparkling and anywhere in between. Wonderfully complex or deceptively simple this wine can fit any palate. So, how is a rosé made and what makes it so versatile?
There are three methods of making a rosé wine.
The first is the most obvious; mix a little bit of red wine into a white wine and poof! Instant pink wine! Although it is not thought to be the most prestigious way to make a rosé, blending is an acceptable wine making method in many wine producing regions.
Next up is the Maceration Method. This is a more common way of making a rosé wine, and it starts off with red grapes. The red grapes are pressed and left on the skins for around 6-48 hours. Less time on the skins means less pink and more time on the skins means more pink. Then the juice is removed from the skins and allowed to ferment as normal.
And lastly there is the Saignée (sohn-yey) Method. Saignée means to bleed. In most cases, the main purpose of this method is to make a better red wine, the rosé wine is a delightful byproduct. Early in the red wine making process some of the juice is removed. This removed juice is pink in color because it had some contact with the skins. It is then fermented separately to make a rosé wine. The red wine left in the original fermentation vat is more concentrated, giving it richer flavor and darker color.
These are just the first steps in making rosé wine. After it gets its characteristic pink hue it is up to the wine maker to finish it off by making it dry, sweet, sparkling or whatever your heart desires!
Cheers!
- Written by Angela Chapman, WSET III
Edited by fellow wino Mariam Copeland
Wine and cheese go together like…. Well, wine and cheese.
The pairing is ubiquitous and an undeniable part of life amongst foodies all over the world. But, why is that? The simple answer is that cheese like wine can be subtle and nuanced or bold and in your face, and it's just really fun to put the two together.
Throughout history, wine producing countries have been pairing their wine with the local cheese and it's no surprise that the two have grown to complement one another. Which brings us to wine and cheese pairing tip number one; pair wine and cheese from the same region together.
Think of it as old friends that have grown up together, they have had centuries to get to know each other and there for can complement each other well. Although, sometimes friends don't always get along so well.
So, tip number two; you can't go wrong with a bold red and an aged cheese. Aged cheeses have a lower water content and tend to have a bigger flavor which can often stand up to a big tannic red.
Don't want a red? How about tip number three; stinky cheese with a sweet wine. I know, it sounds counter intuitive, but trust me the sweetness balances some of the stranger aromas and flavors of the cheese, you will find something in the wine and cheese that you didn't taste before.
But if you really want the ultimate in the wine and cheese tasting experience, I offer the most important tip of all; try everything!
Buy the cheese and wine that you like and try them together and make your own decisions. Heck, if you want some Cheese Wiz on a Ritz cracker, I bet you can find the perfect wine for it (pro tip: it's probable one you already know you like).
Pairings are subjective, you will only find what you like by trying lots of combinations, and, come on, did you really need an excuse to buy a lot of wine and cheese?
Cheers!

- Written by Angela Chapman, WSET III
Edited by fellow wino Mariam Copeland
May 29th is Coq Au Vin Day and we celebrate with this drunken chicken dish.
Coq au vin is a French dish of chicken braised with wine, lardons, mushrooms, and optionally garlic. We love this Julia Child's recipe, which, despite what you may think, is easy as can be. You can even make it in the slow cooker with equally spectacular results.
We love it even more paired with Lost Oak Winery's award-winning Cabernet Franc and Sauvignon Blanc. Both wines are made at Lost Oak Winery, Burleson TX, with grapes from Burning Daylight Vineyards - just across the highway in Rendon TX.
Enjoy, and don't forget, as you make the dish, a cup of wine for you and a cup of wine for the chicken.
Cheers & Bon Appétit!
INGREDIENTS
1/2 cup lardons (or very thickly sliced bacon), cut into 1/4- by 1 1/2-inch strips (optional)
2 or more tablespoons olive oil
3 1/2 to 4 1/2 pounds chicken, cut into parts (or all one kind of part), thoroughly dried
1/4 cup Cognac or Armagnac
Salt and freshly ground black pepper
1 bay leaf
1/4 teaspoon dried thyme
20 pearl onions, peeled
3 tablespoons all-purpose flour
2 cups red wine, preferably Burgundy, Côtes du Rhône, or pinot noir
About 2 cups homemade chicken stock, or beef stock, preferably brown chicken stock (see headnote above)
1 or 2 garlic cloves, mashed or minced
About 1 tablespoon store-bought or homemade tomato paste
3/4 pound fresh mushrooms, trimmed, rinsed, and quartered
DIRECTIONS
1. To make the coq au vin in your slow cooker, see the Slow Cooker Variation below.

To make the coq au vin on your stovetop, pour enough oil in a large pot to reach a depth of 1/8 inch if you're not using lardons or bacon. If you are using lardons or bacon, toss them in a heavy-bottomed casserole or pot along with 2 tablespoons oil over medium or medium-high until lightly browned, about 2 minutes. Transfer the lardons or bacon to a plate, leaving the drippings in the pot.
2. Heat the drippings or oil remaining in the pot over medium-high heat. Add the chicken, being careful not to crowd the pieces. (You may need to work in batches). Cook the chicken, turning frequently, until nicely browned on all sides. (If working in batches, return all the chicken to the pot.) Carefully pour the Cognac or Armagnac into the pot and wait until it becomes bubbling hot. If desired—and if you're brave—ignite the sauce with a match. Let it flame for a minute, gently tilting the pot by its handle and swirling the sauce to burn off the alcohol. To extinguish the flames, simply cover the pan with its lid.
3. Season the chicken with salt and pepper. Add the bay leaf and thyme to the pan and then nestle the onions around the chicken. Cover the pot and let the chicken simmer gently, turning the pieces once, for about 10 minutes.
4. Uncover the pot, sprinkle the flour over everything, and turn the chicken and onions so the flour is absorbed by the sauce. Cover and cook, turning once or twice, for 3 to 4 minutes more.
5. Remove the pot from the heat and gradually stir and swirl in the wine and enough stock to almost cover the chicken. Add the lardons or bacon, garlic, and tomato paste to the pot, cover, and gently simmer for 25 to 30 minutes. Test the chicken for doneness (there should be no trace of pink and the juices should run clear when the meat is pierced with a knife). Grab some tongs and transfer the chicken pieces to the plate when they're done. Continue to cook the rest of the chicken a few minutes longer. If the onions are not quite tender, continue cooking them in the sauce, then return the chicken to the pot, add the mushrooms, and simmer 4 to 5 minutes. The sauce should be just thick enough to lightly coat the chicken and vegetables. (If the sauce seems too thin, bring it to a boil and cook until the sauce is reduced to the desired consistency. If the sauce is too thick, thin it with spoonfuls of stock.) Taste the sauce and correct the seasoning accordingly. Serve the coq au vin immediately or let it cool, cover, and refrigerate overnight. To reheat, skim any fat that has congealed on the surface of the stew and place the pot of coq au vin over medium-low heat.
SLOW COOKER VARIATION
Yes, you can make Julia Child's coq au vin recipe in a slow cooker. Just understand that the complexity of this French classic relies in large part on the caramelization that comes from searing or sautéing various ingredients in a hot skillet prior to jumbling them all together to simmer. Making coq au vin in a slow cooker still turns out a lovely and worthwhile stew, albeit one with just slightly less depth of flavor. There are almost as many ways to adapt this recipe for the slow cooker as there are cooks and slow cookers. We opted for the following approach, which worked swell. If using the lardons (or bacon), follow step 1 of the instructions above. Place the lardons (or bacon) and their drippings in the slow cooker and add the remaining ingredients except for the oil and the flour, using only 1 cup stock (not 2 cups as instructed above). Cook on medium heat for 5 1/2 to 6 hours, until the chicken is tender. Transfer the chicken to a platter or a serving dish. Heat the olive oil in a saucepan over medium-high heat, stir in the flour, and cook until it forms a paste and just begins to turn brown at the edges. Stirring constantly, very slowly strain the liquid from the slow cooker into the saucepan and simmer until it has reduced to a consistency that's thick enough to coat the back of the spoon. Transfer the onions to the platter or dish with the chickens and discard the bay leaf. Pour the reduced sauce over the chicken and onions.

[Editor's Note: Bear in mind, no two slow cookers are exactly alike, just as no two cooks are exactly alike. This slow-cooker approach worked really, really well for us, although if you have a different slow cooker with certain quirks with which you're intimately familiar, you may want to tweak the cooking technique accordingly. And, natch, we'd love if you'd share it with us in a comment below.] Curious to hear more about working magic with your slow cooker? Peruse our entire selection of slow cooker recipes.
Select your wine and spin the wheel to find your wine personality.
Comment below with your wine personality! 🍷😊🥂
#TXWine #GoTexan
Cheers!
The 38th San Francisco International Wine Competition was held November 17 through November 19, 2018, during which 59 judges tasted over 4,500 wines. With entries from countries all around the world, the 2018 SFIWC was truly a global competition.
Here are the awards to Lost Oak Winery wine bestowed by the San Francisco International Wine Competition distinguished Competition judges.
Cabernet Franc 2016 GOLD
Montepulciano 2016 SILVER
Mourvèdre Rosé 2017 SILVER
Cabernet Sauvignon 2016 BRONZE
Viognier 2017 BRONZE
Blanc du Bois 2017 BRONZE
We are honored to be awarded such high accolades form this competition.
Cheers to Texas Wine!
** No Oranges Were Harmed in the Making of This Wine


Orange Muscat: orange flavored Moscato? Nope.

Fun name for a Moscato? Nope.

Orange colored Moscato, right? Nope again.

Orange Muscat is a grape unto itself. A wonderful, slightly orange scented, grape with a lot to offer wine aficionados and novices alike.

The origins of this grape are mysterious. Some say Italy, others say France. But nether of these countries widely produce it anymore. Today, it is more commonly found in the U.S. and Australia. It is most commonly made in a sweet or desert wine style, it can be quite surprising when made dry. It is also very popular in blends because it can add interesting aromas (orange anyone?) to the finished wine. Sweet wine drinkers love it for the variety of flavors it offers wile even dry wine drinkers can appreciate it for its smooth and easy-going profile.

There is, however, ongoing debate of the pedigree of the Orange Muscat grape. Some say it is not related to other Muscat grapes at all. Newly emerging DNA testing is suggesting that it is in fact a crossing between Muscat Blanc à Petit Grains and Chasselas.

Whatever the case, Orange Muscat is perfect for a variety of foods, occasions, and moods.
Cheers!
Eggnog; do you love it or hate it?
Hot totty; tea and whisky not your thing?
Irish cream and coffee; are you waking up or going to sleep?
The list of warm adult beverages goes on and on. But how is your knowledge of warm wine beverages? Let's give those other winter drinks a rest and explore the world of warm wine.
Probably the most common warm wine drink is Mulled wine, or as it is known in Germany, Gluhwein. The basics of it are red wine heated up with various spices and sweetened with honey or sugar. Sometimes, fruit juice and or brandy are also added. It is thought to be Greek or Roman in origin and has been around in some form or another since the 2nd century. The mixture of heated wine and spices was thought to ward off sickness. Doctor, I feel a cold coming on.
This cold may be getting worse, I think I need some GlÖgg. This is one of the more potent versions of warm spiced wine made with Claret (dry red wine), port, and brandy… oh, and spices and sugar too.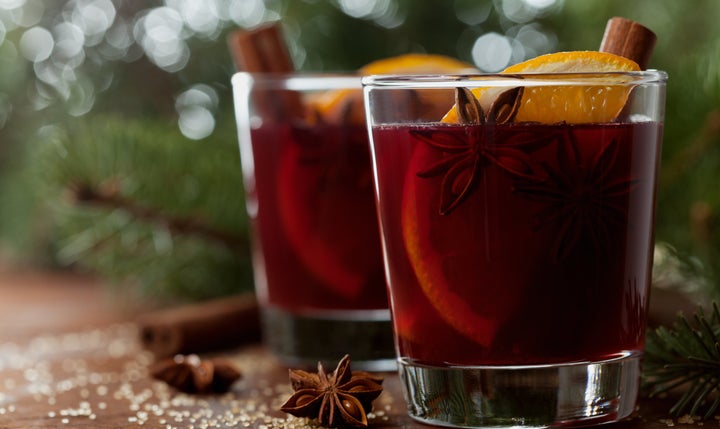 Ok, I think that did it, I'm getting better, so I don't need anything quite that strong. Time for some Wassail!
In its base form, Wassail is just warm spiced fruit juice, normally a combination of cranberry, apple, and orange juices. This is perfect for a winter gathering that has kids and adults because the alcohol (most often red wine and/or brandy) can be added to the mixture later or not at all.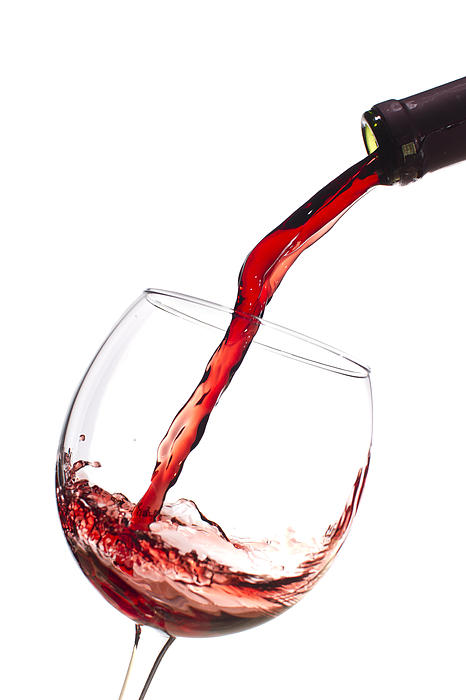 There are hundreds of different ways to make all of these warm wine drinks, and many families have their own recipes for their drink of choice.
Here are a few tips for making your own:
Don't boil or simmer the drink mixture, cook on low for an hour or two. A crock pot works best.
Most common spices to use are: clove, cinnamon, nutmeg, dried orange peel, and star anise. But many recipes also call for allspice, cardamom, vanilla pods, ginger, or even bay leaves. Experiment with spices you like.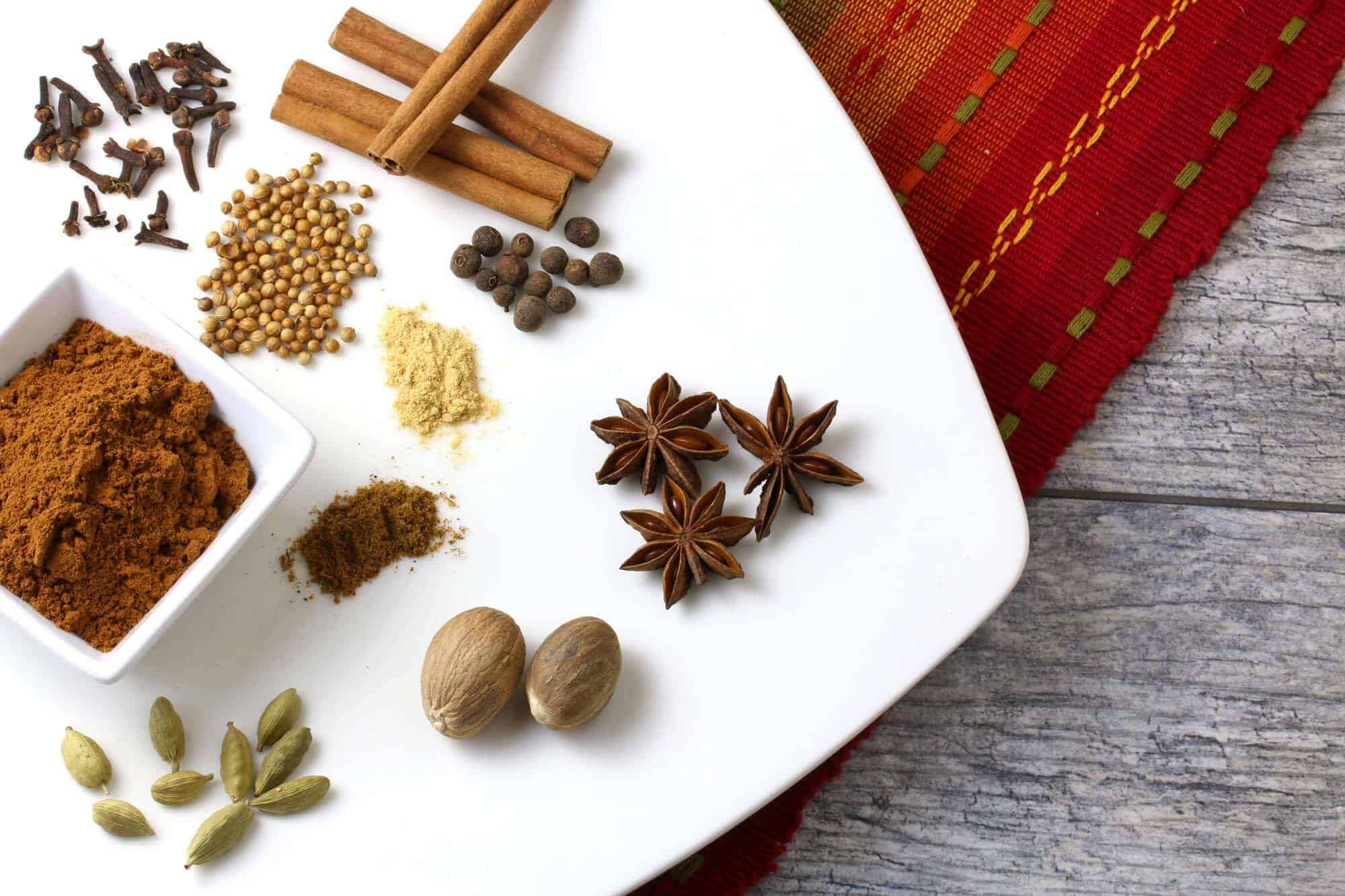 You can use sweet wine or dry wine, however if you use a dry wine you may want to sweeten it. Brown sugar, Piloncillo, or honey works best.
Whole apple slices, orange slices, or cranberries can be added to the mixture for more flavor or they can be used as a garnish.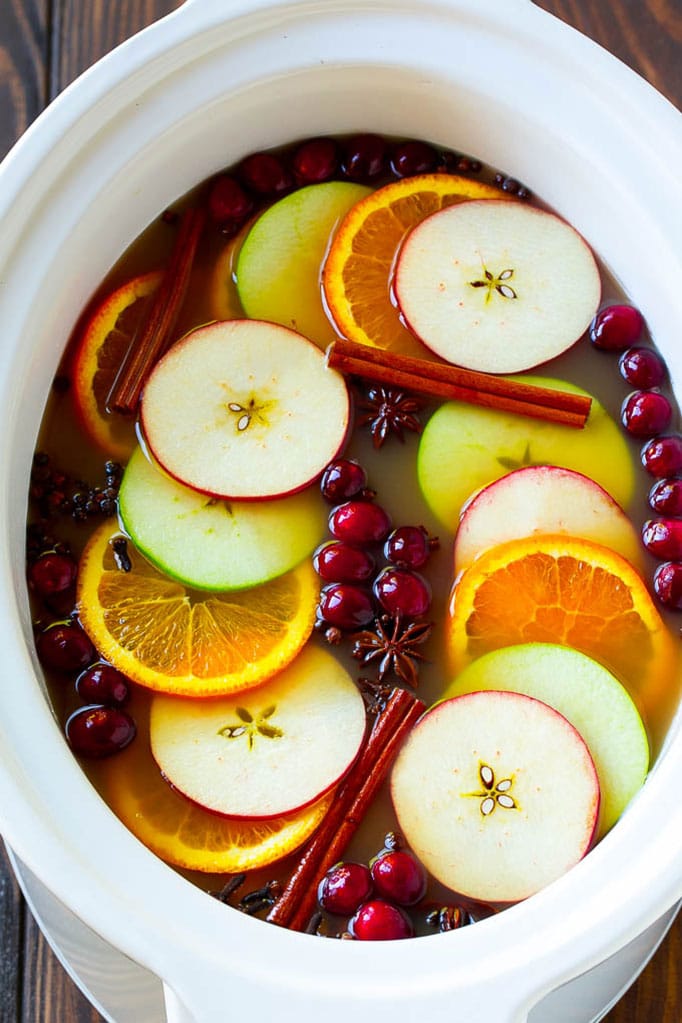 Wine Nerd's Wassail:
1 bottle (64oz) cranberry juice
2 large oranges (juiced)
1 large honey crisp apple (sliced but not peeled)
1 8 oz cone of Piloncillo
1 tb spoon whole cloves
½ ts spoon fresh grated nutmeg
5 cinnamon sticks (plus extra for garnish)
2-4 slices of fresh ginger (about an inch in diameter and 1/8 inch thick)
1-2 star anise
1 bottle of Lost Oak Winery Dolce Rouge
1 bottle of Lost Oak Winery Montepulciano
Insert whole cloves into the flesh part of apple slices and set aside.
Mix cranberry juice and orange juice together in large crock pot and turn on low.
Add clove apple slices, Piloncillo, nutmeg, cinnamon sticks, ginger, and star anise to crock pot.
Cook on low for at least 2 hours, stirring occasionally (the longer it cooks the more spice flavor you'll get). Do not simmer or boil.
If you want the nonalcoholic version, you can stop here and serve with a cinnamon stick garnish. You can also serve the nonalcoholic version and add wine (or brandy) to taste.
For the full Wassail experience; add Dolce Rouge and Montepulciano to the crockpot and cook for an additional 30 mins.
Remove the apple slices and then remove and discard the cloves. Use soaked apple slices as a garnish as well. If it is not sweet enough, extra brown sugar or honey can be added to taste.
Enjoy!
How to Look Like You Know How to Pair Wine & Food for the Holidays:

Step 1: Google the phrase "best Thanksgiving wine pairings."

Step 2: Click on ALL the links and read them thoroughly.

Step 3: Get really confused by all the types of wine, conflicting opinions, and complicated side dishes that you weren't planning on making anyway.

Step 4: Resist the urge to just go to the store and buy the fist box of wine you can find.

Step 5: Go to lost Oak Winery and pick up a few bottles of your favorite wine.

As the resident wine nerd, I get asked about wine pairings all the time. Making sure that you are giving yourself and your guest the very best food and wine experience can be daunting and even anxiety inducing. My advice to everyone looking for that elusive perfect pairing is; drink what you like and get a bottle of wine you know your friends will like. There are some stead fast rules when it comes to pairing: Unoaked whites with citrusy foods, rich meats with tannic reds, sweet wines with spicy food, and your wine for dessert needs to be sweeter than the dessert. However, my number one rule is this: If you don't like the wine, there is nothing I can pair it with to make you like it. Same goes with food, if you don't like it, there isn't a wine made that will make it better. But, there is a bright side. If there is a wine that you are on the fence about, following the rules mentioned earlier can make it a flavor explosion. My number two rule is to always try new wines with new foods. You will never come across the perfect pairing if you don't try it.



Cheers! ~ Angela, WSET III