Blog
Welcome to Lost Oak Winery's Blog.
If you can stand the heat, summer can be a beautiful time in the vineyard. One thing that makes it so colorful is veraison.
Veraison is the name given to the process in which the grapes change colors from green to golden or green to purple or red. During this process, you can see individual barries on bunches changing colors at different times making for a magical kaleidoscope of yellows, greens, and purples.
Along with this color change comes more intense aromas. All of this is to let animals (and us) know that the fruit is ready to eat. We, however, don't rely solely on veraison to tell us the grapes are ready to go. During this time, we are constantly testing the sugar content of the grapes. This involves going down rows of vines pulling a few grapes off each vine. We then squish them all up and take a Degrees Brix reading. That is a fancy way of saying that we are looking for the amount of sugar in the grapes. Each varietal has a different ideal level of sugar that we are looking for.
When the grape reaches that magical Brix number we are ready to harvest!


- Angela Chapman, WSET III
We are very excited to release our new Meritage 2017 this week!
But what is a Meritage you ask?
Meritage is a Registered Trademark of Exceptional Wines Blended in the Bordeaux Tradition. Meritage wines are handcrafted, red or white wines blended from the "noble" Bordeaux grape varieties. A Meritage wine is considered to be the very best of the vintage.
This Lost Oak Winery 2017 Meritage is comprised of:
37% Caberet Sauvignon from Diamante Doble Vineyards, Tokio TX
28% Merlot from Bingham Family Vineyards, Meadow TX
14% Malbec from Burning Daylight Vineyard, Rendon TX
14% Cabernet Franc from Burning Daylight Vineyard, Rendon TX
7% Petit Verdot from Sprayberry Vineyards, Midland TX
Which all adds up to a whole lot of awesome!
This Meritage wine greets you with a beautiful rich ruby color with an earthbound blackberry aroma. Creamy butterscotch meets cherries and sweet tobacco on the tongue. With a smooth silky texture, and complex robust structure, this wine lives up to its name. Aged in American and French oak, pair this great Bordeaux blend with Coq au vin, beef bourguignon, steak au poivre, hearty robust beef stew, leg of lamb, dark chocolate stuffed croissant.
Salud!
- Written by Angela Chapman, WSET III

Edited by fellow wino Mariam Copeland
The panhandle of Texas is home to one of the largest American Viticultural Areas (AVA) in Texas. Designated the Texas High Plains, it is second only to the Texas Hill Country.
Recently, I was invited to tour some of the vineyards in the High Plains.
Now, I am a Texas girl and I have traveled to many corners of the state, but the panhandle is one spot I had never been to. The first thing that struck me was the never-ending sky. Montana is known as "big sky country" but I have been to Montana, and although it is incredibly beautiful, the sky is nothing compared to what the High Plains had to offer.
I thought that the endless flatness would get boring, but instead, I found the expansiveness to be fascinating. I saw wildlife that included prairie dogs, burring owls, red shouldered hawks, horned lizards, and more butterflies than you can count.
I was event there during a haboob. I watched the horizon for almost an hour as the dust storm grew in insanity before engulfing the restaurant we were dining at.
Other nights the horizon was awash in electrically charged thunderheads that just never quite made it to where I was. I can see why people would choose to live in what many would consider to be vast nothingness.
Beautiful vistas and wildlife aside, I was there to look at some vineyards.
But what exactly were we looking for? How healthy are the vines, is there hail damage, how full is the canopy, do the clusters look like they are developing evenly, how much fruit is there, what is the expected yield?
With the help of the growers, all our questions are answered and then we determine how much of each varietal we want from our different growers.
Our first stop was the Bingham Family Vineyard in Meadow then off to Krick Hill Vineyards in Levelland. The next day we went to Oswald Vineyards in Brownfield and Diamante Doble Vineyard in Tokio.
Everywhere we went we were treated to the best Texas hospitality from hard working vineyard owners.
I was overwhelmed by the amount I learned and how passionate the growers were about their vines.
Although, they were growing different types of grapes and each grower did things a little different from the others, one thing they definitely had in common was the spark in their eyes and the smile on their face when they got to talk to us about their pride and joy, their grapes.
We can't wait to make outstanding wine from their incredible fruit.
Cheers!
- Written by Angela Chapman, WSET III

Edited by fellow wino Mariam Copeland

A Rosé by Any Other Name…
…would still be a pink wine.
But to simply calling it a pink wine does not do it justice. Rosé wines can be bone dry, insatiably sweet, sparkling and anywhere in between. Wonderfully complex or deceptively simple this wine can fit any palate. So, how is a rosé made and what makes it so versatile?
There are three methods of making a rosé wine.
The first is the most obvious; mix a little bit of red wine into a white wine and poof! Instant pink wine! Although it is not thought to be the most prestigious way to make a rosé, blending is an acceptable wine making method in many wine producing regions.
Next up is the Maceration Method. This is a more common way of making a rosé wine, and it starts off with red grapes. The red grapes are pressed and left on the skins for around 6-48 hours. Less time on the skins means less pink and more time on the skins means more pink. Then the juice is removed from the skins and allowed to ferment as normal.
And lastly there is the Saignée (sohn-yey) Method. Saignée means to bleed. In most cases, the main purpose of this method is to make a better red wine, the rosé wine is a delightful byproduct. Early in the red wine making process some of the juice is removed. This removed juice is pink in color because it had some contact with the skins. It is then fermented separately to make a rosé wine. The red wine left in the original fermentation vat is more concentrated, giving it richer flavor and darker color.
These are just the first steps in making rosé wine. After it gets its characteristic pink hue it is up to the wine maker to finish it off by making it dry, sweet, sparkling or whatever your heart desires!
Cheers!
- Written by Angela Chapman, WSET III
Edited by fellow wino Mariam Copeland
Wine and cheese go together like…. Well, wine and cheese.
The pairing is ubiquitous and an undeniable part of life amongst foodies all over the world. But, why is that? The simple answer is that cheese like wine can be subtle and nuanced or bold and in your face, and it's just really fun to put the two together.
Throughout history, wine producing countries have been pairing their wine with the local cheese and it's no surprise that the two have grown to complement one another. Which brings us to wine and cheese pairing tip number one; pair wine and cheese from the same region together.
Think of it as old friends that have grown up together, they have had centuries to get to know each other and there for can complement each other well. Although, sometimes friends don't always get along so well.
So, tip number two; you can't go wrong with a bold red and an aged cheese. Aged cheeses have a lower water content and tend to have a bigger flavor which can often stand up to a big tannic red.
Don't want a red? How about tip number three; stinky cheese with a sweet wine. I know, it sounds counter intuitive, but trust me the sweetness balances some of the stranger aromas and flavors of the cheese, you will find something in the wine and cheese that you didn't taste before.
But if you really want the ultimate in the wine and cheese tasting experience, I offer the most important tip of all; try everything!
Buy the cheese and wine that you like and try them together and make your own decisions. Heck, if you want some Cheese Wiz on a Ritz cracker, I bet you can find the perfect wine for it (pro tip: it's probable one you already know you like).
Pairings are subjective, you will only find what you like by trying lots of combinations, and, come on, did you really need an excuse to buy a lot of wine and cheese?
Cheers!

- Written by Angela Chapman, WSET III
Edited by fellow wino Mariam Copeland
** No Oranges Were Harmed in the Making of This Wine


Orange Muscat: orange flavored Moscato? Nope.

Fun name for a Moscato? Nope.

Orange colored Moscato, right? Nope again.

Orange Muscat is a grape unto itself. A wonderful, slightly orange scented, grape with a lot to offer wine aficionados and novices alike.

The origins of this grape are mysterious. Some say Italy, others say France. But nether of these countries widely produce it anymore. Today, it is more commonly found in the U.S. and Australia. It is most commonly made in a sweet or desert wine style, it can be quite surprising when made dry. It is also very popular in blends because it can add interesting aromas (orange anyone?) to the finished wine. Sweet wine drinkers love it for the variety of flavors it offers wile even dry wine drinkers can appreciate it for its smooth and easy-going profile.

There is, however, ongoing debate of the pedigree of the Orange Muscat grape. Some say it is not related to other Muscat grapes at all. Newly emerging DNA testing is suggesting that it is in fact a crossing between Muscat Blanc à Petit Grains and Chasselas.

Whatever the case, Orange Muscat is perfect for a variety of foods, occasions, and moods.
Cheers!
Eggnog; do you love it or hate it?
Hot totty; tea and whisky not your thing?
Irish cream and coffee; are you waking up or going to sleep?
The list of warm adult beverages goes on and on. But how is your knowledge of warm wine beverages? Let's give those other winter drinks a rest and explore the world of warm wine.
Probably the most common warm wine drink is Mulled wine, or as it is known in Germany, Gluhwein. The basics of it are red wine heated up with various spices and sweetened with honey or sugar. Sometimes, fruit juice and or brandy are also added. It is thought to be Greek or Roman in origin and has been around in some form or another since the 2nd century. The mixture of heated wine and spices was thought to ward off sickness. Doctor, I feel a cold coming on.
This cold may be getting worse, I think I need some GlÖgg. This is one of the more potent versions of warm spiced wine made with Claret (dry red wine), port, and brandy… oh, and spices and sugar too.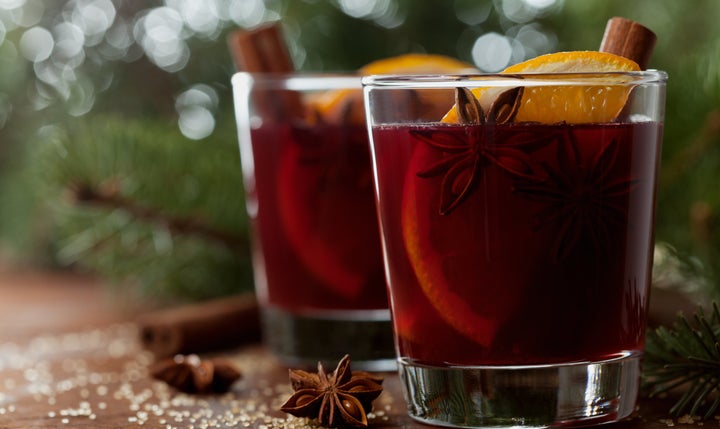 Ok, I think that did it, I'm getting better, so I don't need anything quite that strong. Time for some Wassail!
In its base form, Wassail is just warm spiced fruit juice, normally a combination of cranberry, apple, and orange juices. This is perfect for a winter gathering that has kids and adults because the alcohol (most often red wine and/or brandy) can be added to the mixture later or not at all.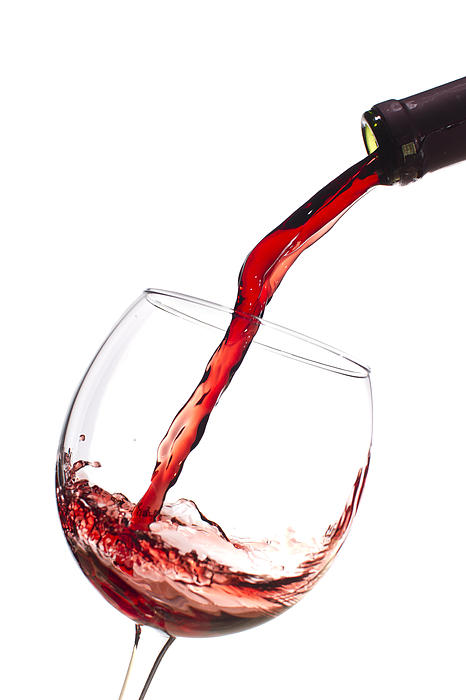 There are hundreds of different ways to make all of these warm wine drinks, and many families have their own recipes for their drink of choice.
Here are a few tips for making your own:
Don't boil or simmer the drink mixture, cook on low for an hour or two. A crock pot works best.
Most common spices to use are: clove, cinnamon, nutmeg, dried orange peel, and star anise. But many recipes also call for allspice, cardamom, vanilla pods, ginger, or even bay leaves. Experiment with spices you like.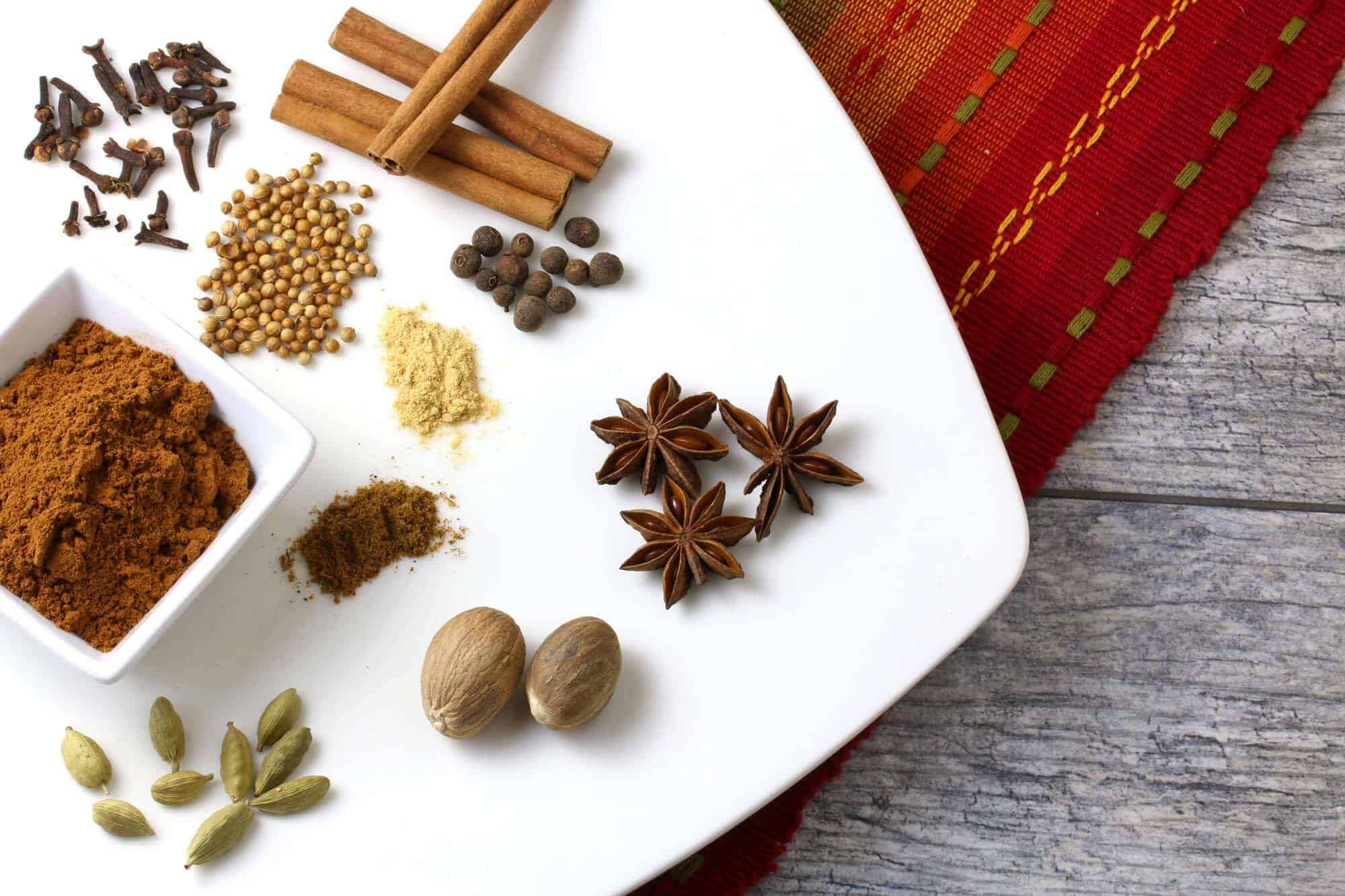 You can use sweet wine or dry wine, however if you use a dry wine you may want to sweeten it. Brown sugar, Piloncillo, or honey works best.
Whole apple slices, orange slices, or cranberries can be added to the mixture for more flavor or they can be used as a garnish.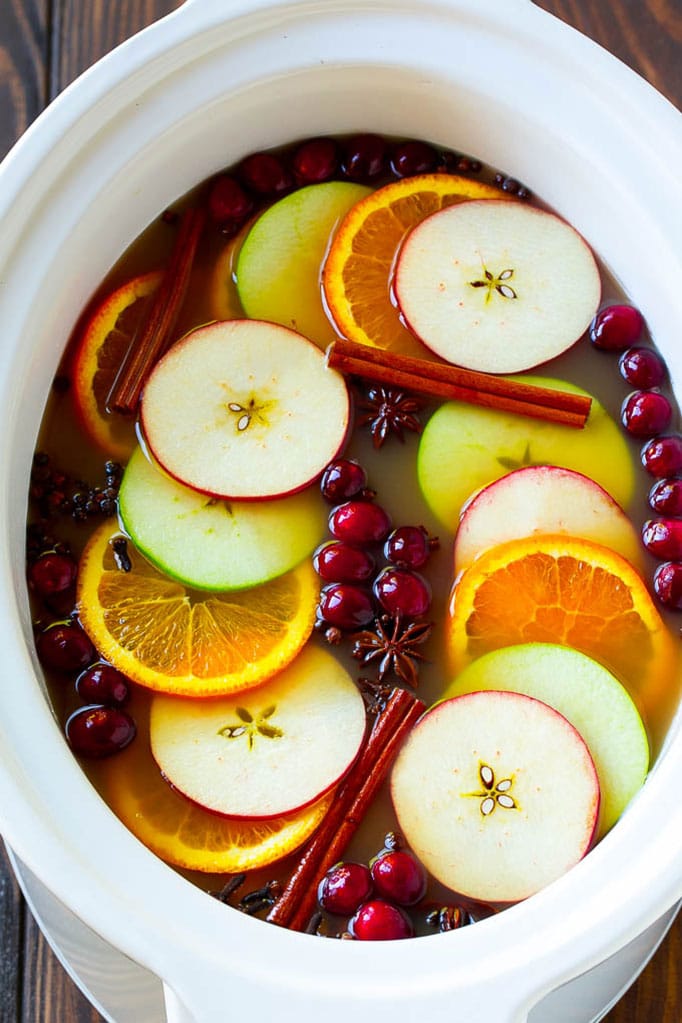 Wine Nerd's Wassail:
1 bottle (64oz) cranberry juice
2 large oranges (juiced)
1 large honey crisp apple (sliced but not peeled)
1 8 oz cone of Piloncillo
1 tb spoon whole cloves
½ ts spoon fresh grated nutmeg
5 cinnamon sticks (plus extra for garnish)
2-4 slices of fresh ginger (about an inch in diameter and 1/8 inch thick)
1-2 star anise
1 bottle of Lost Oak Winery Dolce Rouge
1 bottle of Lost Oak Winery Montepulciano
Insert whole cloves into the flesh part of apple slices and set aside.
Mix cranberry juice and orange juice together in large crock pot and turn on low.
Add clove apple slices, Piloncillo, nutmeg, cinnamon sticks, ginger, and star anise to crock pot.
Cook on low for at least 2 hours, stirring occasionally (the longer it cooks the more spice flavor you'll get). Do not simmer or boil.
If you want the nonalcoholic version, you can stop here and serve with a cinnamon stick garnish. You can also serve the nonalcoholic version and add wine (or brandy) to taste.
For the full Wassail experience; add Dolce Rouge and Montepulciano to the crockpot and cook for an additional 30 mins.
Remove the apple slices and then remove and discard the cloves. Use soaked apple slices as a garnish as well. If it is not sweet enough, extra brown sugar or honey can be added to taste.
Enjoy!
How to Look Like You Know How to Pair Wine & Food for the Holidays:

Step 1: Google the phrase "best Thanksgiving wine pairings."

Step 2: Click on ALL the links and read them thoroughly.

Step 3: Get really confused by all the types of wine, conflicting opinions, and complicated side dishes that you weren't planning on making anyway.

Step 4: Resist the urge to just go to the store and buy the fist box of wine you can find.

Step 5: Go to lost Oak Winery and pick up a few bottles of your favorite wine.

As the resident wine nerd, I get asked about wine pairings all the time. Making sure that you are giving yourself and your guest the very best food and wine experience can be daunting and even anxiety inducing. My advice to everyone looking for that elusive perfect pairing is; drink what you like and get a bottle of wine you know your friends will like. There are some stead fast rules when it comes to pairing: Unoaked whites with citrusy foods, rich meats with tannic reds, sweet wines with spicy food, and your wine for dessert needs to be sweeter than the dessert. However, my number one rule is this: If you don't like the wine, there is nothing I can pair it with to make you like it. Same goes with food, if you don't like it, there isn't a wine made that will make it better. But, there is a bright side. If there is a wine that you are on the fence about, following the rules mentioned earlier can make it a flavor explosion. My number two rule is to always try new wines with new foods. You will never come across the perfect pairing if you don't try it.



Cheers! ~ Angela, WSET III

The Texas wine grape harvest is almost upon us.

In fact, it may be happening a little earlier than normal.
With the mild winter and the early arrival of spring, the Texas grapes got a jump on their growth. Normally grape harvest in Texas starts mid to late July and can go into early September. Around the rest of the American growing regions the harvest does not start until Late August and can go 'till early October.

So how do we harvest all those grapes?
With the help of people like you!
That's right, we use a volunteer power to get those grapes off the vines and experience is not necessary.
We provide the training and the equipment.
It is one of the most rewarding experiences a wine lover can be involved in; you'll be sitting in the relative quiet of the morning, pruning shears in hand, filling a bucket with grapes, and knowing that you are directly contributing to the making of wonderful wine.
In a year or two, as you sip your wine, you can brag to all your friends that YOU made this wine happen!
If you are interested in becoming a harvest volunteer all you need to do is ask a staff member at the tasting room to put you on the harvest volunteer list or
sign up online
. We will email you when it's time! And by the way, we pay in food and wine. Yum!
Hopefully, I'll see you in the vines this summer!
Cheers!
Written by - Angela Chapman, WSET III
Edited and clever photo commentary by fellow wino Mariam Copeland
Have you ever had a bottle of white wine, perfectly chilled, only to find a diamond in it?!?!

Not... sadly not that kind of diamond....

We are talking about the diamonds that look to be sediment in the bottom of your bottle or glass.

These particles could be tartaric crystals, what we in the industry affectionately refer to as Wine Diamonds. People tend to notice the particles more towards the end of the bottle and they will only appear after the wine has been chilled. The formation of tartaric crystals in wine is common and has nothing to do with the quality of the wine. However, we do take extra steps to try and prevent their formation because a lot of people might see these particles and assume that the wine has gone bad. This is not the case.

So, what is happening in your wine? Tartaric acid occurs naturally in many fruits including grapes. In most cases the tartaric acid stays in its liquid from in the wine and can add citrus-y notes to it. However, we tend to chill white wine, and when the wine is chilled to temperatures around 40°F the tartaric acid compounds will naturally combine with potassium to form a crystal. Like I said previously, we do what we can to prevent this from happening. Our one big defense against wine diamonds is to have the wine undergo cold stabilization before we bottle. We lower the temperature of the wine to force the crystals to form and then filter them off. However, this doesn't always prevent the crystals form forming.
If they do form, rest assured that drinking them will not hurt you, but if you don't want them, pouring the wine slowly will keep the crystals in the bottle and out of your glass.

Cheers!
- Written by Angela Chapman, WSET III
Edited by fellow wino Mariam Copeland
04/10/18